Husqvarna Aspire™ P5 Pruner 18V Kit
Compact handheld battery pruner for pruning shrubs, and trees, cutting garden waste, and small carpentry work.
POWER FOR ALL ALLIANCE battery system - Husqvarna is part of the POWER FOR ALL ALLIANCE – the leading manufacturer's largest cross-brand across 18V Battery systems. Enjoy the flexibility of the Aspire™ 18V battery also powering 10 + brands including Bosch. This allows less storage space required, purchasing costs coupled with usability. The Husqvarna 18V batteries have been optimised for improved power and efficient runtime to suit a variety of garden tasks.
Compact performance - The low weight and smaller size of every Aspire™ product improves maneuverability, less operator fatigue, and boasts an impressive amount of Husqvarna's innovative technologies.
Compact storage - Made for easy storage with its own tailor-made hook included with purchase and compact design. You can choose to mount the hook directly on the wall or on the Husqvarna Aspire™ Storage rail accessory – sold separately.
Capacity - Cut through branches up to 75 mm wide
Tool-less tensioner - Remove or tension the chain with the use of any tools.
Safety - Anti-slip handle, safety trigger button, and automatic power off.
Intuitive handling - The sleek black ergonomic design of the Husqvarna Aspire™ range is complemented by orange-coloured details which guide the user to the interaction points.
Soft grip - Husqvarna Aspire™ tools have been fitted with a soft grip handle for maximum comfort while you work.
Digital interface - The user-friendly interface means you can easily power your product on or off and view the battery status with the push of a button to plan your tasks effectively and only charge when you need to.
Low noise - The user can enjoy low noise levels due to quiet and efficient battery power providing comfortable operation and longer working hours in the mornings or evenings without disturbing your neighbours.
Low carbon emissions - This product does not emit CO2 emissions during use while still providing the power and quality you expect from a Husqvarna product.
Runtime - Max runtime with 18-B45 battery: 30 mins
Charge time - Time to charge from empty: 60 mins
- Kit includes Aspire™ P5 skin, 18-B45 2.5Ah battery and 18-C70 charger
- Skin only without battery or charger: $229.00 inc GST
- Also available with extension pole pruner
Transmission

5 m/s

Weight

1.30kg

Bar Length

5" (12.7cm)

Approx. Capacity

75 mm

Chain Pitch

1/4"

Battery Voltage

18V, 2.5 Ah

Battery Type

Li-Ion
Enquire Now
Print Page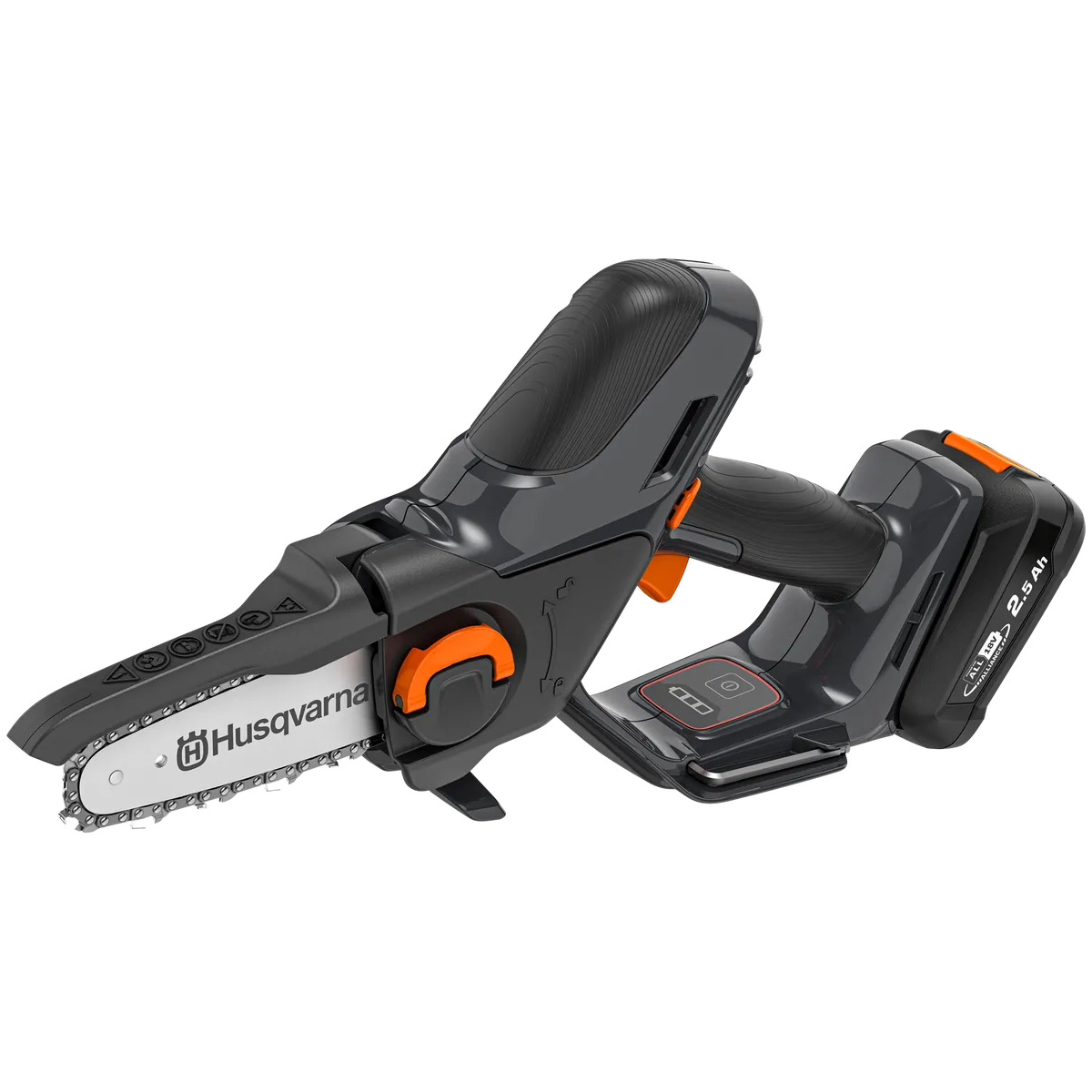 Husqvarna Aspire™ P5 Pruner 18V Kit
$325.00 incl GST
Compact handheld battery pruner for pruning shrubs, and trees, cutting garden waste, and small carpentry work.
Transmission

5 m/s

Weight

1.30kg

Bar Length

5" (12.7cm)

Approx. Capacity

75 mm

Chain Pitch

1/4"

Battery Voltage

18V, 2.5 Ah

Battery Type

Li-Ion