Husqvarna T536LiXP® Chainsaw
$1,247.00 incl GST
Yes, it's possible to perform without fuel. Husqvarna's new battery range combines the latest technology with excellent ergonomics and high performance. A 36V Li-ion battery provides the power to the efficient brushless motor. Designed with the professional arborist in mind
Simple adjustment - Side mounted chain tensioner for quick and easy adjustment
Top handle - Top handle design for precision cutting applications
Battery performance - The 36V Li-Ion battery pack provides equally high power, reliable operation and long lifetime as petrol driven machines. Push button on side allows the user to check the current state of charge.
Fast charge battery charger - In 35mins the battery is 80% charged
Economical - Get as much done on one charge as you would manage on one tank of fuel.
Safety features - Inertia activated safety chain brake system
savE™ - Setting which allows the user maximum runtime
Value for money - Battery is interchangeable between most other products in Husqvarna's battery range
Superior cut - High chain speed for fast and smooth cutting
Intuitive keypad - Simple and easy to operate keypad, the design ensures the saw does not switch on accidentally
Advanced brushless motor - 25% more efficient than a standard brush motor providing the user with high and consistent torque
Belt eyelet - Sturdy point for attaching a rope or clip for tree use
Accessories - Fits Husqvarna's battery accessories like the backpack battery which allows the user non-stop use.
Retained bar nuts - Design of bar nuts help prevents these from falling off and getting lost
- Price includes BLi150 battery and QC330 charger. Skin only $699.00 inc GST
Engine

BLDC (brushless)

Weight

3.60kg

Bar Length

12" (30cm)

Battery Voltage

36V

Battery Type

Li-Ion
Enquire Now
Print Page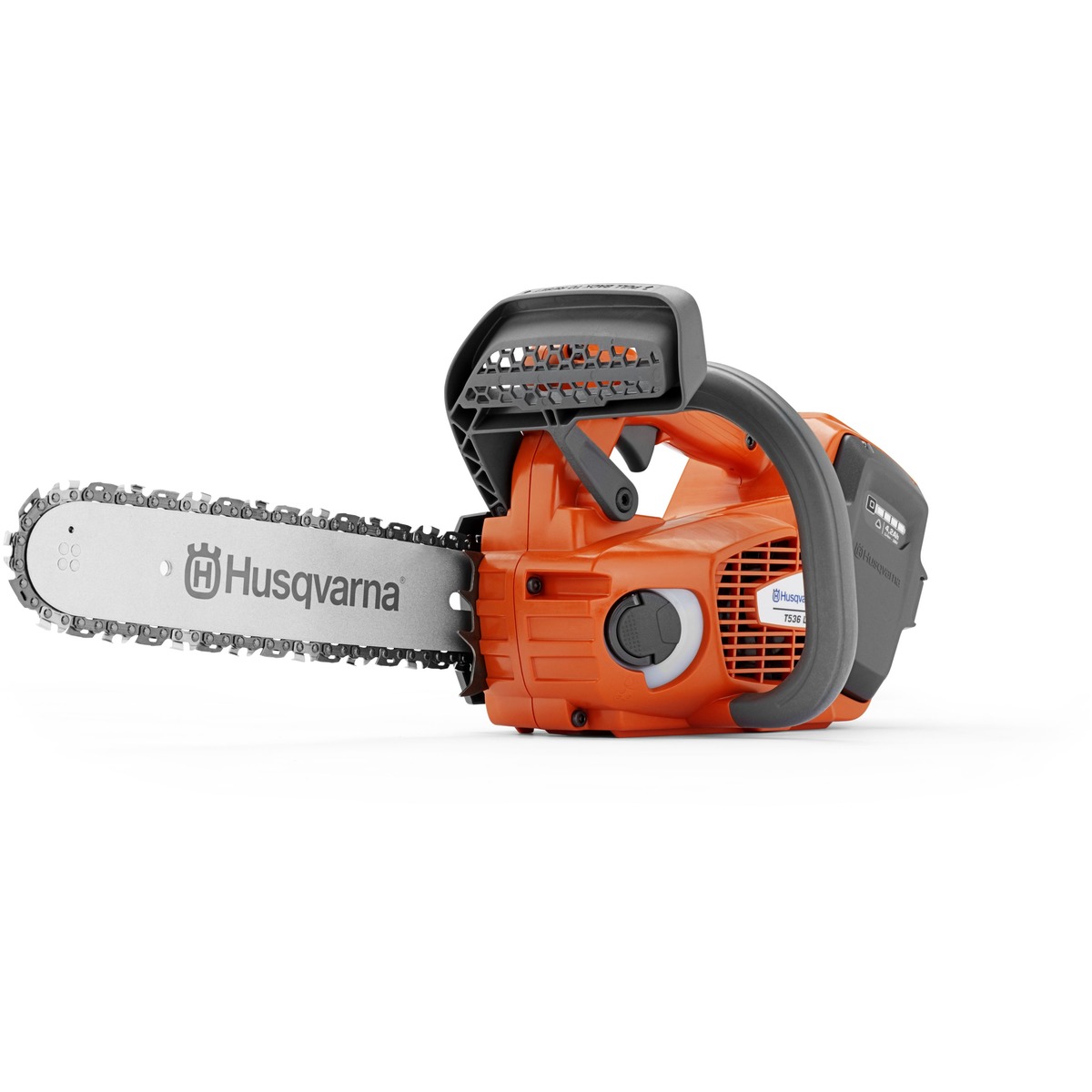 Husqvarna T536LiXP® Chainsaw
$1,247.00 incl GST
Yes, it's possible to perform without fuel. Husqvarna's new battery range combines the latest technology with excellent ergonomics and high performance. A 36V Li-ion battery provides the power to the efficient brushless motor. Designed with the professional arborist in mind
Engine

BLDC (brushless)

Weight

3.60kg

Bar Length

12" (30cm)

Battery Voltage

36V

Battery Type

Li-Ion